Class B Mini Benchtop Dental Autoclave Steam Sterilizer (Fully Automatic LCD Display)

General Descriptions
8 Liter benchtop autoclaves are available as class N and class B. The B class autoclave meets the European standard EN13060. It is very compact with space-saving exterior dimensions, easy to move. The economical mini autoclave is the ideal choice wherever the space is limited, such as tattoo, podiatry, beauty, veterinary and small microbiology requirements.
Performance specifications
♦ Fully automatic benchtop autoclave with pre set programs. Selectable programs are available for different kind of loads.
♦ Liquid sterilization program is also optional.
♦ Choice of language settings are including: English, Spanish, German and Chinese.
♦ Stainless steel grade # 304 chamber, safe, reliable and wear well.
♦ Easily accessible water tank.
♦ In built independent rapid steam generator ensures quick sterilization cycles.
♦ It operates automatically with 134ºC and 121ºC sterilization temperatures.
♦ With large LCD screen, displaying Sterilization Cycle Progress i.e. temperature, pressure, time, process alert and instrument conditions. Friendly user interface.
♦ Fail alarm indicates cycle failure and detail error code.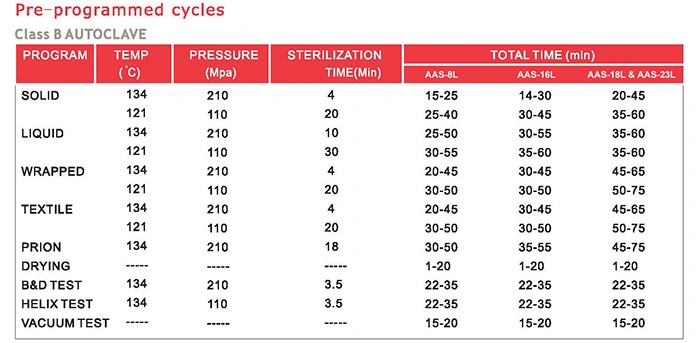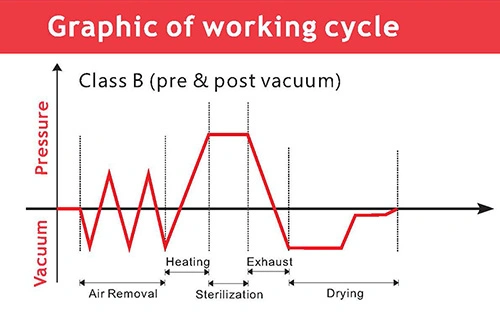 Multiple Security Protective Devices
♦ Double door protection system prevents the cycle from starting if the door is not correctly locked. This system also prevents the door from opening if the pressure inside the chamber is not equal to atmospheric pressure outside the chamber.
♦ Pressure safety valve prevents over pressure in the chamber and steam generator.
♦ The power is automatically cut off if a short circuit or electrical fault occurs.
♦ Able to detect and identify the exact cause of any problems, and to issue a specific error code to the operator.
♦ Water level main switch in the main tank controlling the min and max water level.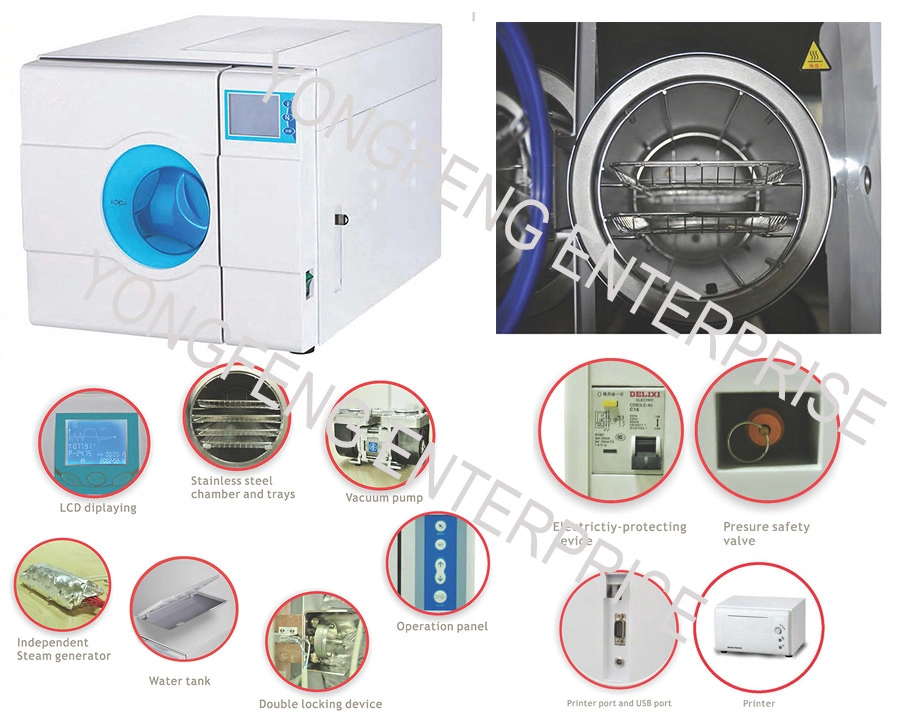 Technical Data
Model

CLASS B-AAS-8L

CLASS B-AAS-16L

CLASS B-AAS-18L

CLASS B-AAS-23L

CLASS B-AAS-23L-T

Volume

8L

16L

18L

23L

29L

Chamber

Size

Φ 170× 320mm

Φ 230× 360mm

Φ 247× 350mm

Φ 247× 450mm

Φ 247× 600mm

Power

1500W

2000W

2200W

2200W

2200W

Net Weight

34.5Kgs

45Kgs

47Kgs

51Kgs

55Kgs
Documentation
1.External printer is optional
2. USB port: it is used for connecting a USB stick, all sterilization data are automatically written in the USB stick and can be read directly in any PC and stored electronically.
3.Internal memory: the last 20 cycles can be automatically stored in the autoclave system, which can be print out at any time.

Optional
1.Printer
2.USB port and USB stick
3.Double door locking device
4.Independent drying program