Heat-seal Flat Sterilization Pouch
Product Description:
Material

Imported medical grade paper/Medical Direct-Seal Paper+PET/CPP Clear Blue/Green/White Film

Sterilization Method

Ethylene oxide (ETO),Steam

Indicators

Initial pink turns brown/yellow(when ETO processed)




Initial blue turns grey/black(when VAPOR or Steam processed)

Application

Hospital, Dental clinic, medical device factory, nail&beauty supply, piercing tattoo supply and etc.

Sample Policy

the samples is for free,but you need pay for courier freightor give me your DHL/FedEx/UPS/TNT account.

Packaging

1 roll/POF ,Outer shipping carton: 2-12 rolls/ctn

Delivery Time

Within 15-20 days in qty 1x20'container after receiving deposit.

Terms of payment

T/T , Western Union, etc.

Storage

Store in dry, clean place and with temperature below 25°C and humidity below 60% is recommended

Validity

2 years

Place of Origin

Anhui

, China (Mainland)

Certificate

ISO13485,

CE

Color

White, Blue Green

Advantage

We have many advanced equipments.Prompt delivery time




Good quality and competitive price




Good service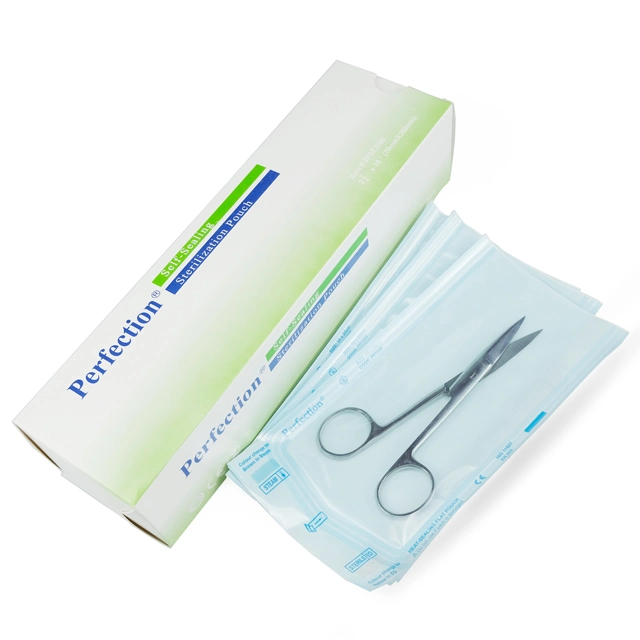 Features:
★
A
dopting three sides explosion proof technology to prevent bursting effectively
;
★Good bacteria resistance, good breathable character and stripping.
★The low-lint fabric delivers barrier and strength properties that help prevent contamination after sterilization
;
★Steam and EO compatible
;
★All process indicators are water based and non-toxic
inks,provide accurate and clear color change after sterilization process
;
Product Usage:
Products are mainly used for ster
i
lization in hospital,dental clinic, laboratory,medical device & medical consumable factory, beauty salon and tattoo center.
Apply to steam sterilization ,EO sterilization, low temperature formaldehyde sterilization and hydrogen peroxide plasma sterilization.
Specification:
Product Specification:
| | | | | | | | |
| --- | --- | --- | --- | --- | --- | --- | --- |
| Code | Inch | Size(cm) | Packing | Code | Inch | Size(cm) | Packing |
| HC-SFP-075200-01 | 3"x8" | 7.5x20cm | 5600pcs | HC-SFP-150200-01 | 6"x8" | 15x20cm | 2800pcs |
| HC-SFP-075250-01 | 3"x10" | 7.5x25cm | 5600pcs | HC-SFP-150300-01 | 6"x12" | 15x30cm | 2800pcs |
| HC-SFP-075280-01 | 3"x11.2" | 7.5x28cm | 5600pcs | HC-SFP-200300-01 | 8"x12" | 20x30cm | 1400pcs |
| HC-SFP-100125-01 | 4"x5" | 10x12.5cm | 8400pcs | HC-SFP-200400-01 | 8"x16" | 20x40cm | 1400pcs |
| HC-SFP-100150-01 | 4"x6" | 10x15cm | 8400pcs | HC-SFP-250300-01 | 10"x12" | 25x30cm | 1400pcs |
| HC-SFP-100200-01 | 4"x8" | 10x20cm | 4200pcs | HC-SFP-250380-01 | 10"x15.2" | 25x38cm | 1200pcs |
| HC-SFP-100250-01 | 4"x10" | 10x25cm | 4200pcs | HC-SFP-350500-01 | 14"x20" | 35x50cm | 800pcs |
| HC-SFP-100280-01 | 4"x11.2" | 10x28cm | 4200pcs | HC-SFP-400500-01 | 16"x20" | 40x50cm | 800pcs |
| HC-SFP-100300-01 | 4"x12" | 10x30cm | 4200pcs | HC-SFP-400750-01 | 16"x30" | 40x75cm | 500pcs |
| HC-SFP-140160-01 | 5.6"x6.4" | 14x16cm | 5600pcs | HC-SFP-500600-01 | 20"x24" | 50x60cm | 500pcs |