FDA CE Marked Ophthalmic Surgical Microscope Operation Microscope
LED illumination
(more strong, more nature and more healthy)
Model: OMS2650
CE & FDA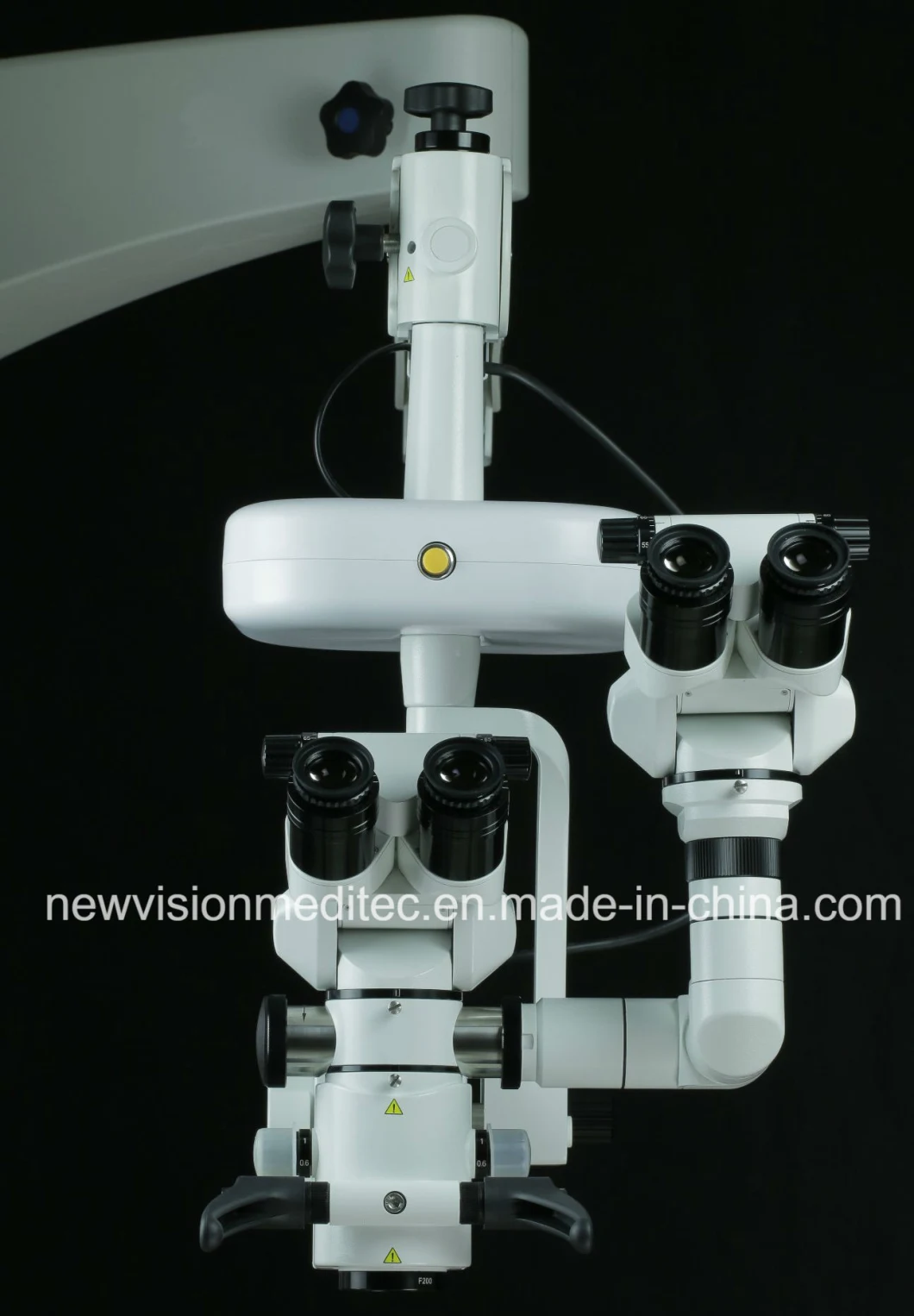 German Optical Lenses with Multi-layer coating
Lenses are made of Schott ® , Germany which reduce the optical aberration.
All of lenses are apochromatic, multi-layer coated and anti-reflective.
Reliable X-Y coupling
With one-button design and easy setting, the X-Y coupling enables guided movement in one plane.
Easy and Comfortable Operating
180 degree inclinable binocular
Inclinable binocular features widest articulation range of any binocular for operator comfort.
Widefield Eyepieces
The widefield eyepieces are screwed in to the tube and have integrated eyecups with stepless adjustment.
The eyepieces are excellently suited for surgeons who wish to work with their eyeglasses on.
Rotatable handgrip
Rotatable handgrip can be adjusted to user's preferred position and enable the user to easily place the
Microscope in the desired position.
Ergonomic foot panel
Without distraction and interruption, you can conveniently adjust the light intensity, level of focus,
X-Y positioning and recover focus position.
Comfortable LED illumination
Brilliant red reflex, natural colors, more contrast as well as lower energy and maintenace costs, and no
harmful IR or UV radiation for the patients.
Specifications:
Eyepiece Magnification
12.5X widefield eyepieces (10X for option)
Objective Lens
f=200
Diopter Adjustment
±7D
Pupil Distance
54mm~76mm
Magnification
5 Steps by drum rotation
Steps of Magnification (y)
0.4X, 0.6X, 1X, 1.6X, 2.5X
Total Magnification
4.3X, 6.8X, 10.6X, 16.9X, 26.5X
Field of View diameter
52mm, 33mm, 21mm, 13mm, 8.3mm
Focusing
Motorized, focus range 40mm; 5 optional objective lenses: F200;
X-Y coupling range: 40mm x 40mm; one button on side
Illumination Source
LED with life time > 60, 000 hours
Filter
Red free, Retinal Protection filter
Reaching Radius of the second Arm
600mm; rotation +/-150 degrees, +/-300mm up and down
Reaching Radius of the first Arm
500mm; rotation 360 degrees
Reach of Arm
1350mm
Height
1750mm
Basement
620mm*610mm
Foot switch
12-Function foot switch
Input Voltage
AC220V±22 V / 50Hz±1Hz, AC110V±11V /60Hz±1Hz
Packing Volume
0.9 CBM, 1 Carton
Total Weight
130KGS